Kick-start your morning the right way, with these nutrient dense breakfast bowls that will fire up your metabolism, tease those taste buds and keep you satisfied until lunch.
Glowing Goddess Bowl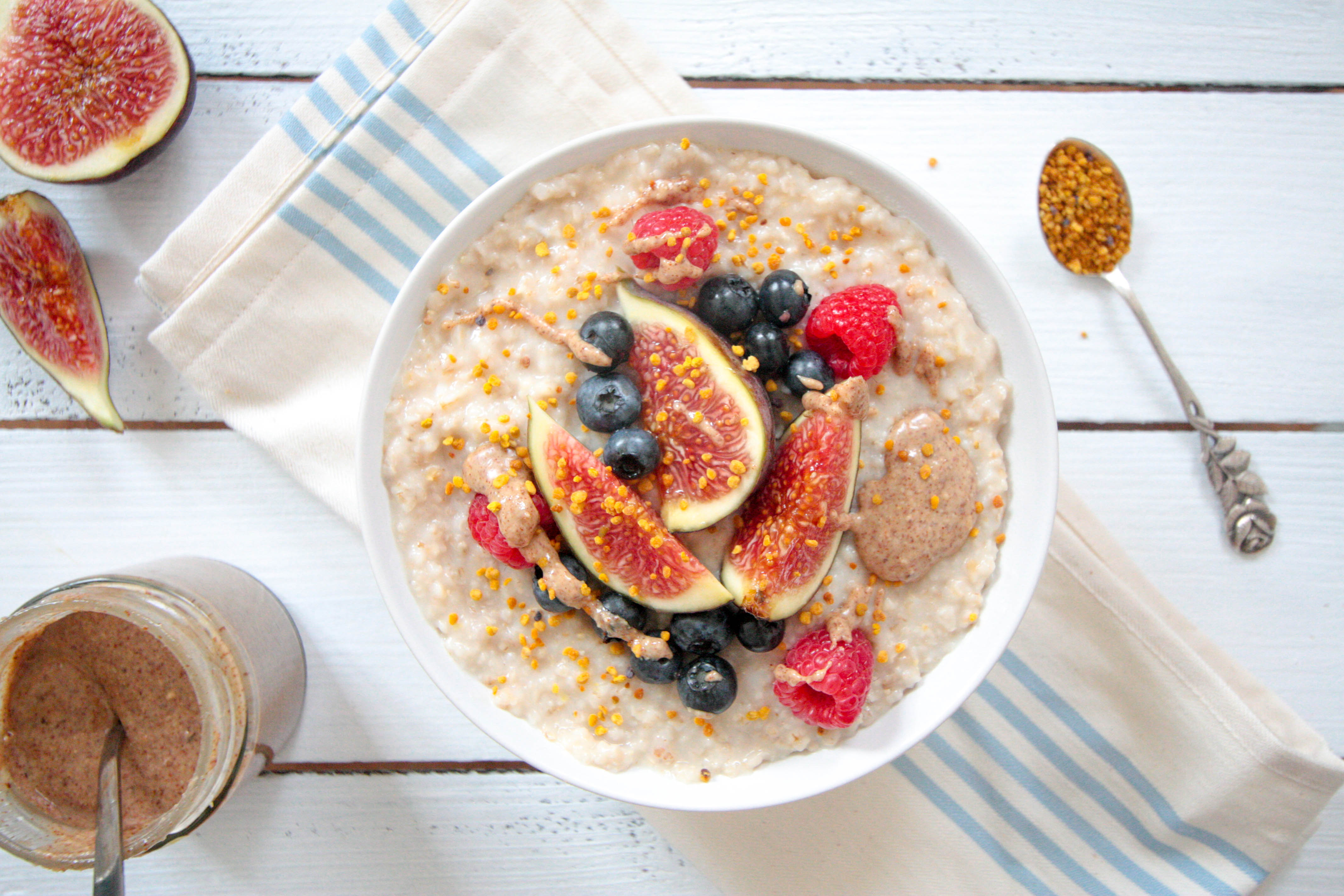 Pimp your plain porridge oats, by mixing them with coconut milk. Then give your bowl a burst of berries, some sumptuous fig slices, a dollop of your favorite nut butter, and bee pollen for a beneficial boost of vitamins and minerals.
Very Vegan Bowl
Start by adding almond milk to mix into your porridge (or quinoa base). This makes it creamy and offers the benefits of almonds, giving you a dose of protein power, and a host of healthy fats. Next cut up a banana into slices, drop them into the bowl with a handful of goji berries, coconut shavings and for the finishing touch, a spoonful of chia seeds for a filling fiber finale.
Amazing Acai Bowl
Acai is the brilliant Brazilian superfood that is brimming with beneficial vitamins and minerals. It makes the perfect breakfast bowl or smoothie component. To make an acai bowl, simply place two tablespoons of acai powder into the blender with a frozen banana, a teaspoon of raw cacao, a cup of almond milk, a teaspoon of maple syrup and blend away. Pour into your bowl and add your toppings of choice. We recommend some more banana, chopped almonds, chia seeds and blueberries. But choose whatever takes your fancy.
Clean and Lean Breakfast Bowl
Get your greens in at the beginning of the day to set your mind, body, and soul up for success. In your chosen bowl, place cooked quinoa, a boiled egg, steamed spinach, and kale, cut up half an avo, and sprinkle over some hemp seeds for a protein punch. For the finishing touch, add a dollop of fresh pesto.
Creamy Chai Bowl
This chai detox bowl is not only filling, it is filled to the top with anti-oxidants, fragrant spices and good for your gut nutrients.  So start soaking your gluten-free granola in almond/coconut milk. Add a sprinkle of cinnamon, cardamon, ginger, and cloves to the mix. Next add a dollop of coconut cream, some banana slices, a dash of maple syrup, cocoa nibs, and chopped almonds. It doesn't get much more perfect.
Eggcellent Bowl
This Protein packed power bowl is perfect post workout. Scramble your eggs in coconut oil until creamy, and add to the bowl. Next add half a chopped avo, some fresh chillies, tomatoes, and chives. Add a sprinkle of sea salt, pepper, and turmeric for an anti inflammatory influx of goodness.
For more delicious food inspiration, try these low calorie desserts.